When it comes to marketing campaigns, email may still be a better option than direct mail, but it's losing ground quickly as the battle for your inbox intensifies. A study by the CMO Council found that the ROI of email marketing is quadruple that of direct mail ($28.50 vs. $7.00). But as the competition intensifies, consumers are increasingly overwhelmed with emails that end up in the trash unopened.
Some companies are turning to more traditional forms of advertising—and with growing success. Direct mail is an increasingly powerful way to reach your target audience simply because it is more personal than an email which is precisely what makes it such a powerful tool.
According to Canada Post: "Direct mail is Canadians' preferred promotional media, irrespective of sector sending. When surveyed, the largest group of respondents (19%) ranked flyers in the mailbox as their top choice, followed closely by personally addressed letters (17%). These channels were followed by email (14%), television (12%), and flyers in the newspaper (12%)."
People don't open every email. Most people either have tons of unopened emails, or they simply delete promotional material without looking at it. MailChimp estimates that most companies can look forward to an open rate of around 20% when sending an email, but you can bet that everyone sorts through their mail.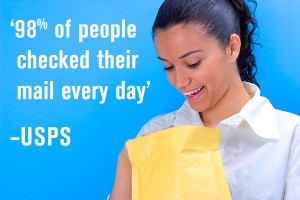 In fact, a study by the US postal service found that 98% of people checked their mail every day while Epsilon found that 77% open their mail immediately. If you have an eye-catching campaign, you've got a great chance of being noticed. About 66% of recipients have made a purchase thanks to direct mail and 70% have rekindled a relationship because of something they received in the mail.
Perhaps one of the reasons for this is that direct mail is more personal—like receiving a birthday card in the mail feels more personal than getting an email greeting. A study by USPS found that 69% of people feel that mail is more personal and tangible than an email. You can capitalize on this by using the recipients first name and writing personal letters.
Not only is mail more personal, it actually leaves a "deeper footprint" on the brain according to a study by Millward Brown. Because recipients physically deal with mail, they are more likely to remember it. That may also be attributed to the fact that people spend ten times more time looking at their mail than they will spend looking at your emails. Sorting and reading mail requires 21% more cognitive effort than electronic mail, so you're more likely to remember items you receive in your post box. You also receive fewer items of mail than you do emails, so you are more likely to pay attention.
That's because 56% of recipients say receiving mail is a "real pleasure," while 55% "look forward" to learning what they've received. This means that direct mail can not only improve your bottom line, it can create a deeper connection between you and your customers and improve your brand awareness.
You can reach out and reconnect with old clients, introduce yourself with new clients and track your progress with promotional codes. If you are looking at improving your marketing, think twice about traditional mail.