Many small-to-medium businesses (SMBs) feel compelled to focus on their organic search rankings. After all, it's "Free" and if you rank highly for your top keyword phrases you can receive excellent business from it. But, even if your business ranks well in local search (and especially if you don't), there are great reasons to consider a paid search campaign (pay-per-click ads).
While I am a big supporter of local search engine optimization (SEO), the marketer in me believes that companies should promote themselves within as many channels as they can afford. And of course, focus their attention on the things that are working.
Local SEO can also be too expensive or time consuming for some SMBs, as achieving higher natural ranking can take more time to affect results. This is especially true for businesses that are seasonal.
In a city like Toronto and the GTA and for more popular business categories, there can be thousand of businesses competing for the same customers. If you're a lawyer, hotelier, plumber, accountant, landscape architect, or general contractor, you may be trying to capture customers from the same pool, along with hundreds of others in your field.
For instance, there are around 2500 lawyers in Toronto, 275 plumbers, 300 landscaping companies, over 700 IT consultants, and over 500 hundred mortgage consultants. (These are only estimates and based on a cursory search of local directories).
Remember: 93% of all buying decisions start with an online search
However, there's only a limited amount of exposure on the first few pages of SERP's (search engine result pages). In Google most users see the default of up to 17 organic/non-paid listings per page, including a few choices from the Map Search results.
If consumers click through to view more map results, they might see three additional results, over and above the seven local results they saw embedded in the original keyword phrase search result. Since less than 5% of users click to view beyond the first page of search results, that means approximately 20 local businesses will be found out of the possible hundreds that are available in their local area.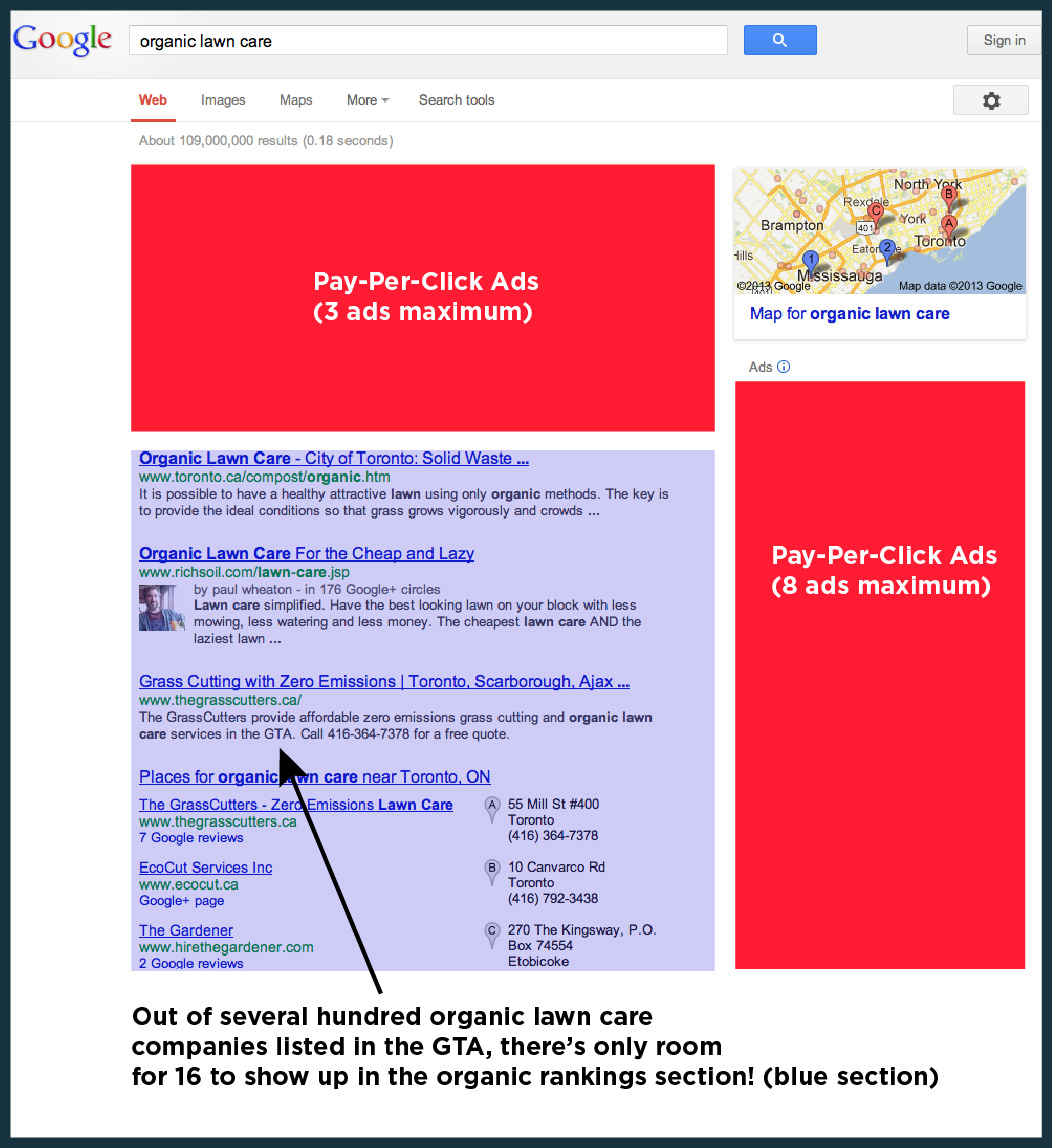 Now, it is possible that you may have higher ranking in other search engines like Bing or Yahoo, however the majority of users are searching from Google.
Still, that means that only a few dozen businesses get found in the first page of search results out of hundreds that may exist in that category. This means only a handful of companies for any given business category have sufficient beneficial exposure in search engines.
If you're not on the first page of natural search results for your top keyword combinations, it's probably a good idea to augment your marketing with a PPC ad campaign, it could give you more business referrals.
Top Reasons Why Pay-Per-Click Could Benefit Your Local Business
Even if your business has top rankings, there are a few reason paid search could be beneficial.
It will supply traffic for those companies that don't have top rankings
Paid Search can supplement your SEO activities. As you know, SEO can take time, Paid Search will put you in front of your prospects in the mean time. In fact, PPC can even help you make more conversions as studies have shown that having top rankings and having paid ads appear at the same time increases your clicks.
Paid search is often less costly and faster to implement than SEO. So, the risks are pretty low and controllable.
Paid ads can get on page one for popular keyword search results.
It is also much easier to have your PPC ads only appear to people in your city. When someone searches for "organic lawn care", it's possible to geographically target or "geotarget" your ads to only appear for your local area. It can be done province-wide, or by city.
For all these reasons, consider doing some PPC advertising, if you're not already. Pay-per-click can be set with small budgets so you can get your feet wet. There are a great deal of options involved and you should consider having a professional to help you get the most out of your campaigns.
So, what are you waiting for?